Product Summary
The 9001-05-00 is a High Performance SIP Reed Relay. The 9001-05-00 is the industry standard when high reliability and consistent performance are desired in a compact package. The 9001-05-00 is a high performance relay ideally suited for Automatic Test Equipment, Instrumentation, RF and Telecommunications applications. The specification table allows you to select the appropriate relay for your application.
Parametrics
9001-05-00 absolute maximum ratings: (1)Voltage rating: 5V; (2)Current rating: 500mA; (3)Temperature range: -20℃ to +85℃.
Features
9001-05-00 features: (1)Hermetically sealed contacts for long life; (2)High dielectric strength available, consult factory; (3)High speed switching compared to electromechanical relays; (4)Molded thermoset body on integral lead frame design; (5)Form C available (9081C); (6)Optional Coil Suppression Diode - protects coil drive circuits; (7)UL File # E67117, CSA File # LR 28537.
Diagrams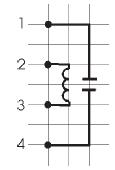 Image
Part No
Mfg
Description
Pricing
(USD)
Quantity

9001-05-00

Coto Technology

Reed Relay SIP Reed Relay

Data Sheet



| | |
| --- | --- |
| 0-1: | $1.58 |
| 1-10: | $1.50 |
| 10-50: | $1.43 |
| 50-100: | $1.31 |

Image
Part No
Mfg
Description
Pricing
(USD)
Quantity

9001

Keystone Electronics

Mounting Hardware SHRD MALE PIN JK RED

Data Sheet

Negotiable

9001-050



SENSOR CURRENT HALL EFFECT 50A

Data Sheet

Negotiable

9001-05-00

Coto Technology

Reed Relay SIP Reed Relay

Data Sheet



| | |
| --- | --- |
| 0-1: | $1.58 |
| 1-10: | $1.50 |
| 10-50: | $1.43 |
| 50-100: | $1.31 |


9001-05-01

Coto Technology

Reed Relay 1 FORM A 5V W/DIODE

Data Sheet



9001-05-02



RELAY REED SPST 500MA 5V

Data Sheet



| | |
| --- | --- |
| 0-1: | $3.11 |
| 1-10: | $2.92 |
| 10-25: | $2.59 |
| 25-100: | $2.33 |
| 100-250: | $2.07 |
| 250-500: | $1.94 |
| 500-1000: | $1.81 |
| 1000-2500: | $1.78 |


9001-05-10

Coto Technology

Reed Relay REED RELAY DPST HIGH REL 12V

Data Sheet



| | |
| --- | --- |
| 0-1008: | $1.46 |
| 1008-5004: | $1.40 |