Product Summary
The M48Z08-100PC1 is an 8K × 8 non-volatile static RAM which is pin and functional compatible with the DS1225. The monolithic chip is available in two special packages to provide a highly integrated battery backed-up memory solution.
Parametrics
M48Z08-100PC1 absolute maximum ratings: (1)TA Ambient Operating Temperature: –40 to 85 ℃; (2)TSTG Storage Temperature (VCC Off): –40 to 85 ℃; (3)TSLD Lead Solder Temperature for 10 seconds: 260 ℃; (4)VIO Input or Output Voltages: –0.3 to 7 V; (5)VCC Supply Voltage: –0.3 to 7 V; (6)IO Output Curren:t 20 mA; (7)PD Power Dissipation: 1 W.
Features
M48Z08-100PC1 features: (1)integrated ultra low power sram, power-fail control circuit and battery; (2)unlimited write cycles; (3)read cycle time equals write cycle time; (4)automatic power-fail chip deselect and write protection; (5)self-contained battery in the caphat dip package; (6)packaging includes a 28 lead soic and snaphat top (to be ordered separately); (7)soic package provides direct connection for a snaphat top which contains the battery; (8)pin and function compatible with the ds1225 and jedec standard 8k × 8 srams.
Diagrams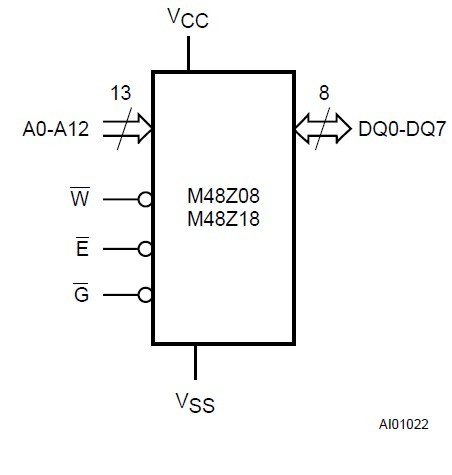 Image
Part No
Mfg
Description
Pricing
(USD)
Quantity

M48Z08-100PC1

STMicroelectronics

NVRAM 64K (8Kx8) 100ns

Data Sheet



| | |
| --- | --- |
| 0-1: | $9.02 |
| 1-10: | $8.20 |
| 10-100: | $6.97 |
| 100-250: | $6.35 |

Image
Part No
Mfg
Description
Pricing
(USD)
Quantity

M48Z02

Other



Data Sheet

Negotiable

M48Z02-150PC1

STMicroelectronics

NVRAM 16K (2Kx8) 150ns

Data Sheet



| | |
| --- | --- |
| 0-1: | $5.51 |
| 1-10: | $4.96 |
| 10-100: | $4.07 |
| 100-250: | $3.74 |


M48Z02-70PC1

STMicroelectronics

NVRAM 16K (2Kx8) 70ns

Data Sheet



| | |
| --- | --- |
| 0-1: | $5.51 |
| 1-10: | $4.96 |
| 10-100: | $4.07 |
| 100-250: | $3.74 |


M48Z02-150PC6

STMicroelectronics

NVRAM 16K (2Kx8) 150ns

Data Sheet

Negotiable

M48Z02-200PC1

STMicroelectronics

NVRAM 16K (2Kx8) 200ns

Data Sheet

Negotiable

M48Z08

Other



Data Sheet

Negotiable