Product Summary
The FM31256-G is a Integrated Processor Companion with Memory. It is available in various sizes, realtime clock, low-VDD reset, watchdog timer, nonvolatile event counter, lockable 64-bit serial number area, and general purpose comparator that can be used for an early power-fail (NMI) interrupt or other purpose.
Parametrics
Absolute maximum ratings: (1)Power Supply Voltage with respect to VSS:-1.0V to +7.0V ; (2)Voltage on any signal pin with respect to VSS:-1.0V to +7.0V and VIN ≤ VDD+1.0V; (3)Backup Supply Voltage:-1.0V to +4.5V ; (4)Storage Temperature:-55℃ to + 125℃ ; (5)Lead Temperature (Soldering, 10 seconds):260℃ ; (6)Human Body Model:4kV; (7)Charged Device Model:1kV; (8)Machine Model:250V.
Features
Features: (1)Serial Nonvolatile Memory ; (2)Real-time Clock (RTC) ; (3)Low Voltage Reset ; (4)Watchdog Timer ; (5)Early Power-Fail Warning/NMI ; (6)Two 16-bit Event Counters ; (7)Serial Number with Write-lock for Security ; (8)Backup Current under 1 μA ; (9)Seconds through Centuries in BCD format ; (10)Tracks Leap Years through 2099 ; (11)Uses Standard 32.768 kHz Crystal (6pF) ; (12)Software Calibration ; (13)Supports Battery or Capacitor Backup; (14)Up to 1 MHz Maximum Bus Frequency ; (15)Supports Legacy Timing for 100 kHz & 400 kHz ; (16)Device Select Pins for up to 4 Memory Devices ; (17)RTC, Supervisor Controlled via 2-wire Interface.
Diagrams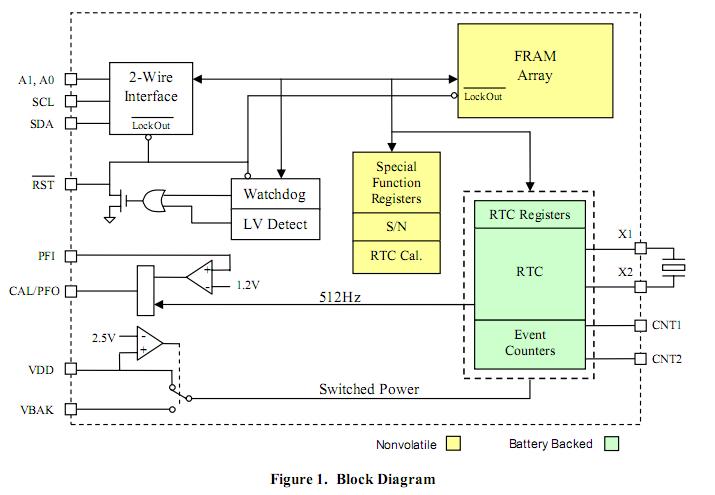 Image
Part No
Mfg
Description
Pricing
(USD)
Quantity

FM31256-G

Ramtron

F-RAM 256K w/RTC Pwr Mon WDT Bat Sw PF

Data Sheet



| | |
| --- | --- |
| 0-1: | $4.78 |
| 1-10: | $4.29 |
| 10-50: | $3.88 |
| 50-100: | $3.52 |


FM31256-GTR

Ramtron

F-RAM 256K w/RTC Pwr Mon WDT Bat Sw PF

Data Sheet