Product Summary
The E3Z-T86 is a Photoelectric Sensor with Built-in Amplifier.
Parametrics
E3Z-T86 absolute maximum ratings: (1)Power supply voltage: 12 to 24 VDC ±10% including 10% (p-p) max. ripple; (2)Current consumption Emitter: 15 mA; Receiver: 20 mA; (3)Ambient temperature Operating: -25℃ to 55℃; Storage: -40℃ to 70℃.
Features
E3Z-T86 features: (1)Photoelectric Sensor with built-in amplifier is applicable to a wide variety of lines and ensures a longer sensing distance than any other model; (2)User-friendly Sensor takes all installation and on-site conditions into consideration; (3)Eliminates the influence of installation and on-site conditions, thus increasing the reliability of the line; (4)OMRON has been making efforts towards environmental protection by adopting user and environment-friendly measures; (5)Greatly saves energy and resources. The economy-oriented age has evolved into the ecology-oriented age; (6)Meets a variety of international standards, thus allowing use in any country.
Diagrams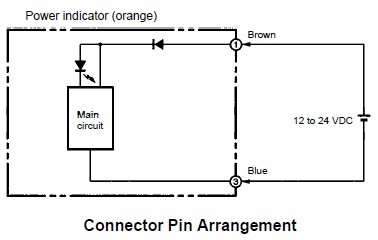 Image
Part No
Mfg
Description
Pricing
(USD)
Quantity

E3Z-T86

Omron Industrial

Photoelectric Sensors Through-Beam PNP Con nector

Data Sheet



| | |
| --- | --- |
| 0-1: | $87.13 |
| 1-5: | $81.39 |
| 5-10: | $78.82 |
| 10-20: | $77.38 |


E3Z-T86A

Omron Industrial

Photoelectric Sensors PNP M8 CONN THRU-BEAM

Data Sheet



| | |
| --- | --- |
| 0-1: | $89.92 |
| 1-5: | $87.07 |
| 5-10: | $85.49 |
| 10-25: | $82.32 |