Product Summary
The CM2030-A0TR is a HDMI Transmitter Port Protection and Interface Device. It is specifically designed for next generation HDMI Host interface protection.
Parametrics
Absolute maximum ratings: (1)VCC5, VCCLV:6.0V ; (2)DC Voltage at any Channel Input:[GND - 0.5]V to [VCC + 0.5]V ; (3)Storage Temperature Range:65℃ to +150℃.
Features
Features: (1)HDMI 1.3 compliant ; (2)Supports thin dielectric and 2-layer boards ; (3)Minimizes TMDS skew with 0.05pF matching ; (4)Long HDMI cable support with integrated I2C accelerator ; (5)Active termination and slew rate limiting for CEC ; (6)Supports direct connection to CEC microcontroller ; (7)Integrated I2C level shifting to CMOS level including low logic level voltages ; (8)Integrated 8kV ESD protection and backdrive protection on all external I/O lines ; (9)Integrated overcurrent output protection per HDMI 1.3 ; (10)Multiport I2C support eliminates need for analog mux on DDC lines ; (11)Simplified layout with matched 0.5mm trace spacing ; (12)RoHS-compliant, lead-free packaging.
Diagrams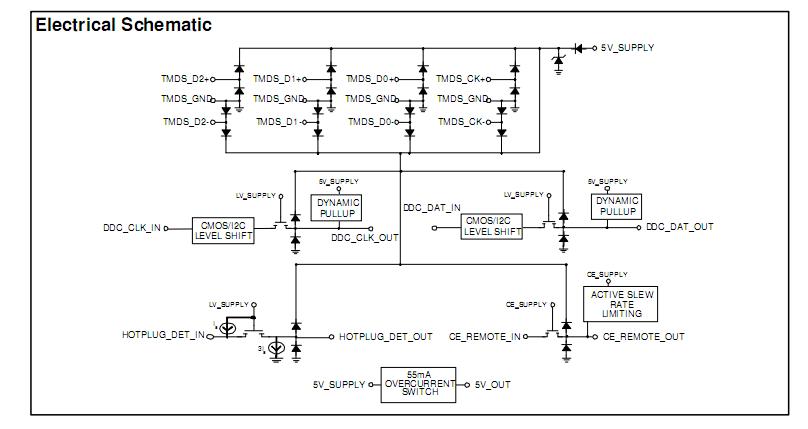 Image
Part No
Mfg
Description
Pricing
(USD)
Quantity

CM2030-A0TR

ON Semiconductor

ESD Suppressors HDMI Receiver Port C

Data Sheet



| | |
| --- | --- |
| 0-1: | $1.02 |
| 1-25: | $0.82 |
| 25-100: | $0.74 |
| 100-250: | $0.66 |

Image
Part No
Mfg
Description
Pricing
(USD)
Quantity

CM2006

Other



Data Sheet

Negotiable

CM2006-02QR

ON Semiconductor

Video ICs VGA Port Monitor

Data Sheet



| | |
| --- | --- |
| 0-1: | $0.54 |
| 1-10: | $0.49 |
| 10-50: | $0.43 |
| 50-100: | $0.41 |


CM2009

Other



Data Sheet

Negotiable

CM2009-00QR

ON Semiconductor

Video ICs VGA Port Circuit 55 Ohm

Data Sheet



| | |
| --- | --- |
| 0-1: | $0.57 |
| 1-10: | $0.51 |
| 10-50: | $0.46 |
| 50-100: | $0.43 |


CM2009-02QR

ON Semiconductor

Video ICs VGA Port Circuit 15 Ohm

Data Sheet



| | |
| --- | --- |
| 0-1: | $0.52 |
| 1-10: | $0.43 |
| 10-50: | $0.41 |
| 50-100: | $0.31 |


CM200C-32.768KAZF-UT

Citizen

Crystals 32.768K 30ppm 12.5pF

Data Sheet



| | |
| --- | --- |
| 0-3000: | $0.18 |
| 3000-9000: | $0.18 |
| 9000-18000: | $0.17 |