Product Summary
The HEF4093BT is a quad two-input NAND gate. It operates over a recommended VDD power supply range of 3 V to 15 V referenced to VSS (usually ground).
Parametrics
Absolute maximum ratings: (1)supply voltage:-0.5V to +18V; (2)input clamping current:±10mA; (3)input voltage:-0.5V to VDD+0.5V; (4)output clamping current:±10mA; (5)input/output current:±10mA; (6)supply current:50mA; (7)storage temperature:-65℃ to +150℃; (8)ambient temperature:-40℃ to +125℃; (9)total power dissipation:500mW; (10)power dissipation per output:100 mW.
Features
Features: (1)Schmitt trigger input discrimination; (2)Fully static operation; (3)5 V, 10 V, and 15 V parametric ratings; (4)Standardized symmetrical output characteristics; (5)Operates across the automotive temperature range from:-40℃ to +125℃; (6)Complies with JEDEC standard JESD 13-B.
Diagrams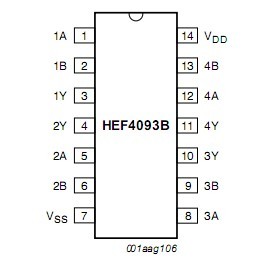 Image
Part No
Mfg
Description
Pricing
(USD)
Quantity

HEF4093BT,652

NXP Semiconductors

Gates (AND / NAND / OR / NOR) QUAD 2IN NAND SCHMTT TRIGGER

Data Sheet



| | |
| --- | --- |
| 0-1: | $0.07 |
| 1-25: | $0.07 |
| 25-100: | $0.07 |
| 100-250: | $0.06 |


HEF4093BT,653

NXP Semiconductors

Gates (AND / NAND / OR / NOR) QD 2IN NAND SCH TRIG

Data Sheet



| | |
| --- | --- |
| 0-1: | $0.07 |
| 1-25: | $0.07 |
| 25-100: | $0.07 |
| 100-250: | $0.06 |