Product Summary
The HCPL-7800A is a high CMR isolation amplifier. The device provides a unique combination of features ideally suited for motor control circuit designers.
Parametrics
Absolute maximum ratings: (1)Storage Temperature:-55℃ to 125℃; (2)Ambient Operating Temperature:-40℃ to 100℃; (3)Supply Voltages:0V to 5.5V; (4)Steady-State Input Voltage:-2.0V to VDD1+0.5V; (5)Two Second Transient Input Voltage:-6.0; (6)Output Voltages:-0.5V to VDD2+0.5V; (7)Lead Solder Temperature:260℃(1.6 mm below seating plane, 10 sec.).
Features
Features: (1)15 kV/μs Common-Mode Rejection at VCM = 1000V; (2)Compact, Auto-Insertable Standard 8-pin DIP Package; (3)4.6 μV/°C Offset Drift vs. Temperature; (4)0.9 mV Input Offset Voltage; (5)85 kHz Bandwidth; (6)0.1% Nonlinearity; (7)Worldwide Safety Approval: UL 1577 (3750 V rms/1 min), VDE 0884 and CSA; (8)Advanced Sigma-Delta A/D Converter Technology; (9)Fully Differential Circuit Topology; (10)1 μm CMOS IC Technology.
Diagrams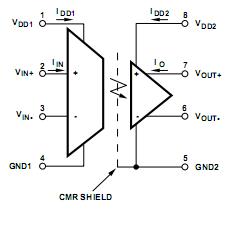 Image
Part No
Mfg
Description
Pricing
(USD)
Quantity

HCPL-7800A

Avago Technologies

Special Purpose Amplifiers 4.5 - 5.5 SV 8 dB

Data Sheet



| | |
| --- | --- |
| 0-50: | $6.76 |
| 50-100: | $6.08 |
| 100-250: | $5.74 |
| 250-500: | $5.41 |


HCPL-7800A#300

Avago Technologies

Isolation Amplifiers 4.5 - 5.5 SV 8 dB

Data Sheet



| | |
| --- | --- |
| 0-50: | $6.78 |
| 50-100: | $6.10 |
| 100-250: | $5.77 |
| 250-500: | $5.42 |


HCPL-7800A-300E

Avago Technologies

Isolation Amplifiers 4.5 - 5.5 SV 8 dB

Data Sheet



| | |
| --- | --- |
| 0-1: | $7.63 |
| 1-25: | $6.78 |
| 25-100: | $6.10 |
| 100-250: | $5.77 |


HCPL-7800A-500E

Avago Technologies

Isolation Amplifiers 4.5 - 5.5 SV 8 dB

Data Sheet



| | |
| --- | --- |
| 0-625: | $5.42 |
| 625-1000: | $5.09 |


HCPL-7800A#500

Avago Technologies

Isolation Amplifiers 4.5 - 5.5 SV 8 dB

Data Sheet



| | |
| --- | --- |
| 0-625: | $5.42 |
| 625-1000: | $5.09 |


HCPL-7800A-000E

Avago Technologies

Special Purpose Amplifiers 4.5 - 5.5 SV 8 dB

Data Sheet



| | |
| --- | --- |
| 0-1: | $7.60 |
| 1-25: | $6.76 |
| 25-100: | $6.08 |
| 100-250: | $5.74 |