Product Summary
The CAT3200-5 is switched capacitor boost converter that delivers a low noise, regulated output voltage. The device gives a fixed regulated 5V output. The constant frequency 2MHz charge pump allows small 1μF ceramic capacitors to be used. The applications of the CAT3200-5 include: (1)3V to 5V boost conversion; (2)White LED driver; (3)USB On-The-Go 5V supply; (4)Local 5V supply from lower rail; (5)Battery backup systems; (6)Handheld portable devices.
Parametrics
CAT3200-5 absolute maxing ratings: (1)VIN, VOUT, SHDN, CNEG, CPOS Voltage: -0.6V to 6.0V; (2)VOUT Short Circuit Duration: Indefinite; (3)Output Current: 200mA; (4)ESD Protection (HBM): 2000V; (5)Junction Temperature: 150℃; (6)Storage Temperature Range: -65℃ to 160℃; (7)Lead Soldering Temperature (10 sec): 300℃; (8)Power Dissipation (SOT23-6): 0.3W; (9)Power Dissipation (8-MSOP): 0.5W.

Features
CAT3200-5 features: (1)Constant high frequency (2MHz) operation; (2)100mA output current; (3)Regulated output voltage ; (4)Low quiescent current (1.7mA typ.); (5)Input voltage operation down to 2.7V; (6)Soft start, slew rate control; (7)Thermal overload shutdown protection; (8)Low value external capacitors (1μF); (9)Foldback current overload protection; (10)Shutdown current less than 1μA; (11)CAT3200-5 in low profile (1mm thin) 6-lead SOT23 package.
Diagrams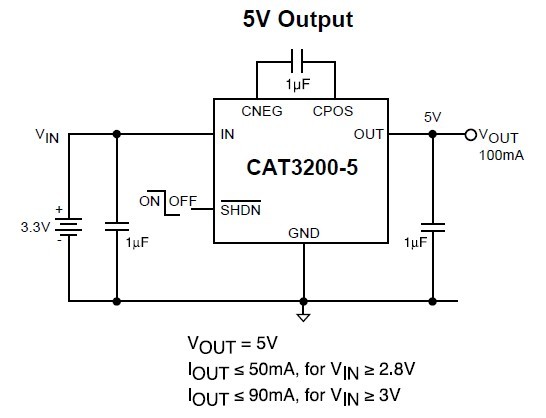 Image
Part No
Mfg
Description
Pricing
(USD)
Quantity

CAT3200-5

Other



Data Sheet

Negotiable
Image
Part No
Mfg
Description
Pricing
(USD)
Quantity

CAT310WT1

Catalyst (ON Semiconductor)

LED Lighting Drivers 10-Ch Automotive LED Display

Data Sheet

Negotiable

CAT310W-T1

ON Semiconductor

LED Lighting Drivers LED Driver,10 Chan 4-wire I/F

Data Sheet



| | |
| --- | --- |
| 0-1: | $1.24 |
| 1-25: | $1.00 |
| 25-100: | $0.90 |
| 100-250: | $0.80 |


CAT32

Other



Data Sheet

Negotiable

CAT3200

Other



Data Sheet

Negotiable

CAT3200-5

Other



Data Sheet

Negotiable

CAT3200EMS8

Other



Data Sheet

Negotiable