Product Summary
The HEDS-9140 is a three channel optical incremental encoder module. When used with a codewheel, the low cost module detects rotary position. Each module consists of a lensed LED source and a detector IC enclosed in a small plastic package. Due to a highly collimated light source and a unique photodetector array, the HEDS-9140 provides the same high performance found in the HEDS-9000/9100 two channel encoder family.
Parametrics
HEDS-9140 absolute maximum ratings: (1)Storage Temperature: -40 to +100℃; (2)Operating Temperature: -40 to +100℃; (3)Supply Voltage,VCC: -0.5V to 7V; (4)Output Voltage,VO: -0.5V to VCC; (5)Output Current per Channel: -1.0 mA to 5 mA; (6)Shaft Axial Play: ±0.25 mm(±0.010 in.); (7)Shaft Eccentricity Plus Radial Play: 0.1mm(0.004 in.); (8)TIR Velocity: 30,000 RPM[1]; (9)Acceleration: 250,000 rad/sec2[1].
Features
HEDS-9140 features: (1)Two channel quadrature output with index pulse; (2)Resolution up to 2000 CPR (Counts Per Revolution); (3)Low cost; (4)Easy to mount; (5)No signal adjustment required; (6)Small size; (7)-40 to 100℃ operating temperature; (8)TTL compatible; (9)Single 5V supply.
Diagrams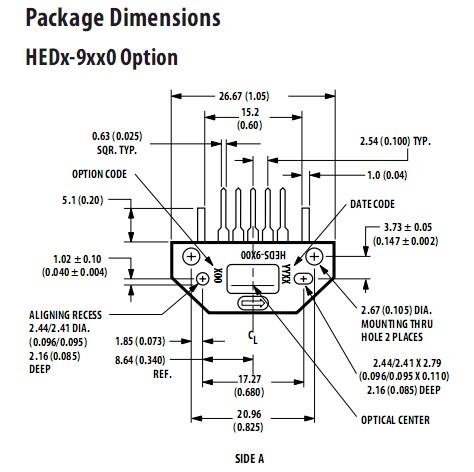 Image
Part No
Mfg
Description
Pricing
(USD)
Quantity

HEDS-9140

Other



Data Sheet

Negotiable

HEDS-9140#A00

Avago Technologies

Encoders 3 Channel 500CPR

Data Sheet



| | |
| --- | --- |
| 0-1: | $19.31 |
| 1-25: | $15.02 |
| 25-100: | $14.16 |
| 100-250: | $13.30 |


HEDS-9140#G00

Avago Technologies

Encoders 3 Channel 360CPR

Data Sheet



| | |
| --- | --- |
| 0-58: | $15.02 |
| 58-100: | $14.16 |
| 100-250: | $13.30 |
| 250-500: | $12.87 |


HEDS-9140#C00

Avago Technologies

Encoders 3 Channel 100CPR

Data Sheet



| | |
| --- | --- |
| 0-58: | $15.02 |
| 58-100: | $14.16 |
| 100-250: | $13.30 |
| 250-500: | $12.87 |


HEDS-9140#F00

Avago Technologies

Encoders 3 Channel 256CPR

Data Sheet



| | |
| --- | --- |
| 0-58: | $15.02 |
| 58-100: | $14.16 |
| 100-250: | $13.30 |
| 250-500: | $12.87 |


HEDS-9140#E00

Avago Technologies

Encoders 3 Channel 200CPR

Data Sheet



| | |
| --- | --- |
| 0-58: | $15.02 |
| 58-100: | $14.16 |
| 100-250: | $13.30 |
| 250-500: | $12.87 |


HEDS-9140#I00

Avago Technologies

Encoders 3 Channel 512CPR

Data Sheet



| | |
| --- | --- |
| 0-1: | $19.31 |
| 1-25: | $15.02 |
| 25-100: | $14.16 |
| 100-250: | $13.30 |


HEDS-9140#S00

Avago Technologies

Encoders 3 Channel 50CPR

Data Sheet



| | |
| --- | --- |
| 0-58: | $15.02 |
| 58-100: | $14.16 |
| 100-250: | $13.30 |
| 250-500: | $12.87 |