Product Summary
The 9007-05-00 is an Economy SIP Reed Relay. The 9007-05-00 is the industry choice for a wide variety of designs where economy, performance and a compact package are needed. The 9007-05-00 Spartan Series is a general purpose economy version of the 9001 for applications with less stringent requirements. The relay is well suited for applications in Security, Instrumentation and Modems. The specification table allows you to select the appropriate relay for your application.
Parametrics
9007-05-00 absolute maximum ratings: (1)Voltage rating: 5V; (2)Current rating: 500mA; (3)Temperature range: -20℃ to +85℃.
Features
9007-05-00 features: (1)Hermetically sealed contacts for long life; (2)High dielectric strength available, consult factory; (3)High speed switching compared to electromechanical relays; (4)Molded thermoset body on integral lead frame design; (5)Form C available (9081C); (6)Optional Coil Suppression Diode - protects coil drive circuits; (7)UL File # E67117, CSA File # LR 28537.
Diagrams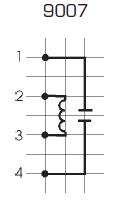 Image
Part No
Mfg
Description
Pricing
(USD)
Quantity

9007-05-00

Coto Technology

Reed Relay Spartan SIP Relay

Data Sheet



| | |
| --- | --- |
| 0-1: | $0.59 |
| 1-10: | $0.56 |
| 10-50: | $0.53 |
| 50-100: | $0.49 |

Image
Part No
Mfg
Description
Pricing
(USD)
Quantity

9007

Keystone Electronics

PLUG CONTACT SHROUD SPR 20AWG RD

Data Sheet

Negotiable

9007-05-00

Coto Technology

Reed Relay Spartan SIP Relay

Data Sheet



| | |
| --- | --- |
| 0-1: | $0.59 |
| 1-10: | $0.56 |
| 10-50: | $0.53 |
| 50-100: | $0.49 |


9007-05-01

Coto Technology

Reed Relay 1FORMA 5V W/DIODE

Data Sheet



| | |
| --- | --- |
| 0-1: | $0.59 |
| 1-10: | $0.56 |
| 10-50: | $0.53 |
| 50-100: | $0.49 |


9007-05-02

Coto Technology

Reed Relay SIP REED 5 VOLTS 9000 SERIES

Data Sheet

Negotiable

9007-05-10



RELAY REED SPST 500MA 5V

Data Sheet



9007-05-11



RELAY REED SPST 500MA 5V

Data Sheet



| | |
| --- | --- |
| 0-1: | $0.91 |
| 1-10: | $0.85 |
| 10-100: | $0.68 |
| 100-250: | $0.60 |
| 250-500: | $0.57 |
| 500-1000: | $0.53 |
| 1000-2500: | $0.52 |
| 2500-5000: | $0.51 |