Product Summary
The LM318H is a precision high speed operational amplifier designed for applications requiring wide bandwidth and high slew rate. They feature a factor of ten increase in speed over general purpose devices without sacrificing DC performance. The LM318H has internal unity gain frequency compensation. This considerably simplifies its application since no external components are necessary for operation. However, unlike most internally compensated amplifier, external frequency compensation may be added for optimum performance. For inverting applications, feedforward compensation of the LM318H will boost the slew rate to over 150V/μs and almost double the bandwidth. Overcompensation can be used with the amplifier for greater stability when maximum bandwidth is not needed. Further, a single capacitor can be added to reduce the 0.1% settling time to under 1 μs.
Parametrics
LM318H absolute maximum ratings: (1)Supply Voltage: ±20V; (2)Power Dissipation: 500 mW; (3)Differential Input Current: ±10 mA; (4)Input Voltage: ±15V; (5)Output Short-Circuit Duration: Continuous; (6)Storage Temperature Range: -65℃ to +150℃; (7)Hermetic Package: 300℃; (8)Plastic Package: 260℃.
Features
LM318H features: (1)15 MHz small signal bandwidth; (2)Guaranteed 50V/μs slew rate; (3)Maximum bias current of 250 nA; (4)Operates from supplies of ±5V to ±20V; (5)Internal frequency compensation; (6)Input and output overload protected; (7)Picompatible with general purpose op amps.

Diagrams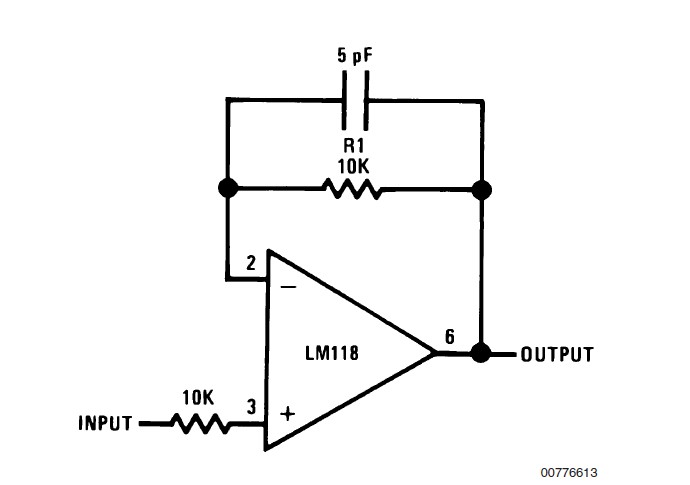 Image
Part No
Mfg
Description
Pricing
(USD)
Quantity

LM318H/NOPB



IC OP AMP HIGH SLEW RATE TO-99-8

Data Sheet

Negotiable
Image
Part No
Mfg
Description
Pricing
(USD)
Quantity

LM310

Other



Data Sheet

Negotiable

LM3100

Other



Data Sheet

Negotiable

LM31-00000F-001PG

Measurement Specialties Sensors

Liquid Level Sensors 0-1psig 0.5-4.5V

Data Sheet



| | |
| --- | --- |
| 0-10: | $86.54 |
| 10-25: | $82.26 |
| 25-50: | $79.20 |


LM31-00000F-005PG

Measurement Specialties Sensors

Liquid Level Sensors 0-5psig 0.5-4.5V

Data Sheet



| | |
| --- | --- |
| 0-10: | $68.54 |
| 10-25: | $64.26 |
| 25-50: | $57.83 |
| 50-100: | $57.16 |


LM31-00000F-030PG

Measurement Specialties Sensors

Liquid Level Sensors 0-30psig 0.5-4.5V

Data Sheet



| | |
| --- | --- |
| 0-10: | $68.54 |
| 10-25: | $64.26 |
| 25-50: | $57.83 |
| 50-100: | $57.16 |


LM3100EVAL

National Semiconductor (TI)

Power Management IC Development Tools LM3100 EVAL BOARD

Data Sheet