Product Summary
The CMR3000-D1 is a 3-axis Low Power Gyro for Consumer Electronics. The applications of the CMR3000-D1 include Gaming input devices, Computer peripherals and remote controllers, Mobile phones.
Parametrics
CMR3000-D1 absolute maximum ratings: (1)Vdd: 2.5 to 3.0 V; (2)Digital I/O Vdd, Vdd ≥ Digital I/O Vdd: 1.6 to 3.0V; (3)Operating temperature: -40 to +85℃; (4)Operating temperature: 5mA.
Features
CMR3000-D1 features: (1)2.5 V?.6 V supply voltage; (2)1.6 V?.6 V digital I/O voltage; (3)Low 5 mA current consumption; (4)±2000°/s measurement range; (5)20 Hz and 80 Hz user selectable bandwidths; (6)SPI and I2C digital interface; (7)Size 3.1x4.1x0.83 mm3; (8)Proven capacitive 3D-MEMS technology; (9)High shock durability; (10)RoHS compliant/lead free soldering.
Diagrams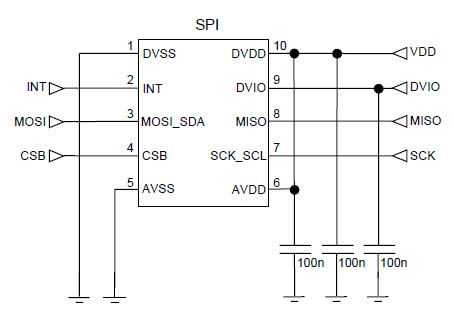 CMR309T10.000MABJTR



CRYSTAL 10.0000 MHZ 18PF SMD

Data Sheet

Negotiable

CMR309T10.000MABJ-UT

Citizen Finetech Miyota (VA)

CRYSTAL 10.0000 MHZ 18PF SMD

Data Sheet



| | |
| --- | --- |
| 1-10: | $0.47 |
| 10-50: | $0.41 |
| 50-100: | $0.32 |
| 100-500: | $0.27 |


CMR309T-10.240MABJ-UT

Citizen

Crystals 10.240MHz REFLOWABLE SMD

Data Sheet

Negotiable

CMR309T-13.500MAAQ-UT

Citizen

Crystals 13.500MHZ

Data Sheet

Negotiable

CMR309T-12.288MABJ-UT

Citizen

Crystals 12.288MHz REFLOWABLE SMD

Data Sheet

Negotiable

CMR309T-14.31818MABJ-UT

Citizen

Crystals 14.31818MHz REFLOWABLE SMD

Data Sheet

Negotiable