Product Summary
The 2211-05-301 is a 2200 Series Reed Relay.
Parametrics
2211-05-301 absolute maximum ratings: (1)Voltage rating: 5 to 12V; (2)Coil resisitance: 230 to 1500Ω; (3)Switching current: 0.25A; (4)Operating Temp: -20℃ to +85℃.
Features
2211-05-301 features: (1)Very small (0.17 in2), high reliability reed relays; (2)High Insulation Resistance - 1012 Ω available with some models; (3)High speed switching compared to electromechanical relays; (4)Hermetically sealed contacts for long life; (5)Epoxy coated steel shell provides magnetic shielding; (6)Optional Electrostatic Shield for reducing capacitive coupling; (7)Optional Coaxial Shield for 50 Ω impedance and switching of fast rise time digital pulses offered on some models; (8)Relay models 2200-2301, 2200-2302, are ATE industry standards. Specifically engineered for OEM designs and maintenance of existing production fixtures.
Diagrams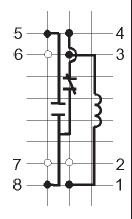 Image
Part No
Mfg
Description
Pricing
(USD)
Quantity

2211-05-301

Coto Technology

Reed Relay Micromin FormC Reed

Data Sheet



| | |
| --- | --- |
| 0-1: | $7.57 |
| 1-10: | $6.31 |
| 10-50: | $5.81 |
| 50-100: | $5.41 |

Image
Part No
Mfg
Description
Pricing
(USD)
Quantity

2211

Keystone Electronics

Circuit Board Hardware - PCB HEX .250X.750 ALUM

Data Sheet



| | |
| --- | --- |
| 0-1: | $0.28 |
| 1-100: | $0.17 |
| 100-500: | $0.14 |
| 500-1000: | $0.11 |


2211/16 WH001

Alpha Wire

Heat Shrink Tubing & Sleeves 1/16in ID SHRNK TUBN 1000ft SPOOL WHT

Data Sheet



| | |
| --- | --- |
| 0-1: | $108.89 |
| 1-2: | $106.09 |
| 2-10: | $100.52 |
| 10-20: | $94.93 |


2211-05-301

Coto Technology

Reed Relay Micromin FormC Reed

Data Sheet



| | |
| --- | --- |
| 0-1: | $7.57 |
| 1-10: | $6.31 |
| 10-50: | $5.81 |
| 50-100: | $5.41 |


221108-2

TE Connectivity / AMP

RF Connectors SCREW

Data Sheet



| | |
| --- | --- |
| 0-1: | $0.21 |
| 1-25: | $0.18 |
| 25-50: | $0.16 |
| 50-100: | $0.14 |


221108-4

TE Connectivity / AMP

RF Connectors SCREW

Data Sheet



2211-1000D

Other



Data Sheet

Negotiable