Product Summary
The OPA2227PA is a High Precision, Low Noise operational amplifier. It is unity-gain stable and features high slew rate(2.3V/μs) and wide bandwidth (8MHz). The OPA2227PA is ideal for professional audio equipment. In addition, low quiescent current and low cost make them ideal for portable applications requiring high precision. The applications of the OPA2227PA are data acquisition, telecom equipment, geophysical analysis, vibration analysis, spectral analysis, professional audio equipment, active filters, power supply control.
Parametrics
OPA2227PA absolute maximum ratings: (1)Supply Voltage:±18V; (2)Signal Input Terminals, Voltage:(V–) –0.7V to (V+) +0.7V, Current:20mA; (3)Output Short-Circuit:Continuous; (4)Operating Temperature:–55℃ to +125℃; (5)Storage Temperature:–65℃ to +150℃; (6)Junction Temperature:150℃; (7)Lead Temperature (soldering, 10s):300℃.
Features
OPA2227PA features: (1)low noise: 3nV/√Hz; (2)wide bandwidth: OPA227: 8MHz, 2.3V/μs; (3)settling time: 5μs(significant improvement over OP-27); (4)high CMRR: 138dB; (5)high open-loop gain: 160dB; (6)low input bias current: 10nA max; (7)low offset voltage: 75μV max; (8)wide supply range: ±2.5V to ±18V; (9)OPA227 replaces OP-27, LT1007, MAX427; (10)single, dual, and quad versions.
Diagrams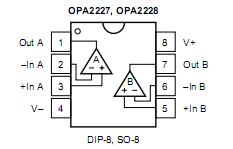 Image
Part No
Mfg
Description
Pricing
(USD)
Quantity

OPA2227PA

Texas Instruments

Operational Amplifiers - Op Amps High Prec Low Noise Oper Amplifier

Data Sheet



| | |
| --- | --- |
| 0-1: | $2.60 |
| 1-25: | $2.38 |
| 25-100: | $1.90 |
| 100-250: | $1.65 |


OPA2227PAG4

Texas Instruments

Operational Amplifiers - Op Amps High Prec Low Noise Oper Amplifier

Data Sheet



| | |
| --- | --- |
| 0-1: | $2.60 |
| 1-25: | $2.38 |
| 25-100: | $1.90 |
| 100-250: | $1.65 |